Important New Handbook on Extraterritoriality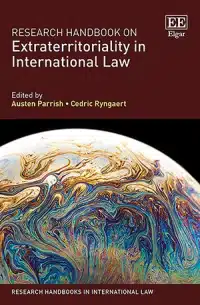 Many TLB readers will share my excitement and appreciation for the brand-new Research Handbook on Extraterritoriality in International Law, a volume of wide-ranging expert analyses edited by Austen Parrish and Cedric Ryngaert. The volume explores extraterritoriality from a full range of perspectives rarely (if ever) brought together in one place. I am reading it cover-to-cover and will be keeping it within easy reach of my desk.
The volume opens with an exploration of extraterritoriality from an international perspective, starting with the standard account of international legal doctrine but expanding to encompass other social science and critical approaches. It then takes a comparative approach, with chapters on EU, U.S., Commonwealth, Asian, Latin American, and African treatments of extraterritoriality. I am particularly excited about these chapters, as the domestic U.S. debate over extraterritorial regulation relies on (often over-generalized) assumptions about what other countries do or do not want or do themselves.
The second half of the volume addresses the many contexts in which extraterritoriality is debated, understanding that these analyses are distinct but that much can be learned by bringing them into conversation with one another. These chapters consider how extraterritoriality is applied as a doctrinal matter in interpretation of written law (a contribution by TLB's own Bill Dodge), in judicial cooperation, and through treaties. Later chapters address specific substantive topics in which extraterritoriality plays an unavoidable role, including antitrust, financial regulation, environmental law, Internet governance, transnational corruption, protection of refugees, intellectual property, and secondary sanctions (and that's just a partial list). The reality is that an interconnected world cannot be governed from rigidly distinct spheres: actors, ideas, money, and harms do not stop at borders. How the tension between different states' interests gets worked out in one area of law can provide ideas or experiences from which to draw when wrestling with conceptually analogous challenges in other areas.
Finally, the introduction by Austen and Cedric is itself a valuable read. They expertly summarize much of the leading scholarship on territoriality ("a socially constructed artefact and a historically contingent phenomenon, which nevertheless has become fixed and naturalized") and extraterritoriality (which they use as a "neutral moniker" but which they acknowledge can be "simply the canvas on which spatially informed arguments unfold"). Their footnotes read as a veritable bibliography of recent scholarship spanning many countries and perspectives, a useful supplement to the volume's own collection of experts.
The Handbook is a perfect combination of the practical and the theoretical. It includes much straightforward doctrinal clarification, but it also opens up new opportunities for synthesis and potential reform.