Throwback Thursday: Foreign Sovereign Immunity in 1970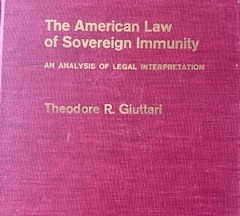 A fascinating and obscure book from 1970 discusses the relationship between domestic and foreign state immunity, the power of the executive branch over immunity, reciprocity, and – of course – the legislative reforms that would several years later become the Foreign Sovereign Immunities Act.
The American Law of Sovereign Immunity, published in 1970 by Theodore R. Giuttari, has earned a permanent place in the immunity section of my bookshelves at work, and not just because the typesetting reminds me that the manuscript was produced with ink and ribbon.  The prodigious footnotes at the end of each chapter ramble a bit, as the author indulges himself – and his reader – sometimes out of pure interest and the love of law.
The book holds important scholarly insights, too, ones that are not part of the standard histories of foreign sovereign immunity.  The treatment of immunity in the nineteenth century is especially rich.  The post-Schooner Exchange century spanning 1812 to World War I is often summed up in two words: "absolute immunity."  Overlooked by almost everyone, however, is the extent to which courts and commentators viewed foreign and domestic immunities interchangeably in this period.  Immunity was understood as inherent to sovereignty. So, many in rem cases involving federal and state property relied upon international cases, and many local precedents made their way into cases involving foreign sovereigns. That relationship is not without contemporary significance.  In Republic of Argentina v. Weltover, the Supreme Court reasoned in dicta that the constitutional due process protections to which foreign states are entitled are based in part upon the due process protections to which domestic states are entitled.  Giuttari also canvasses an impressive range of state court cases, many involving government railroads, banks, and municipalities, reminding us of the ever-complicated relationship between state and federal power in transnational litigation.
The treatment of executive power over immunity is also careful and nuanced.  The author emphasizes the importance of judicial decisions in immunity cases before the Supreme Court's 1946 decision in Republic of Mexico v. Hoffman, which held that executive branch suggestions of immunity are binding on the courts.  The Hoffman case included little analysis of the constitutional issue, and was wrongly decided. Along those lines, Giuttari has a nice analysis of Banco Nacional de Cuba v. Sabbatino and the tension between that case and Hoffman.
Finally, the run up to the FSIA receives extended treatment, especially the questions around immunity from execution and executive control of immunity. In a 1969 meeting of the American Society of International Law (ASIL), Deputy Legal Adviser Murray J. Belman outlined a legislative proposal to remove the State Department from any role in deciding immunity cases.  The legislation was controversial for that reason, but also for its absolute approach to immunity from execution – even while embracing the restrictive approach to immunity from adjudication.  Absolute immunity from execution was criticized by Monroe Leigh, also from the State Department, at that same 1969 ASIL meeting but defended by others, in part out of concerns with reciprocity and the potential exposure of U.S. government property abroad.  But reciprocity has played little role in immunity cases historically, as Giuttari points out (p. 325).  The Supreme Court would have benefitted from these observations in its 2021 decision in Federal Republic of Germany v. Philipp, in which it relied upon unconvincing reciprocity concerns to support its (correct) decision that Germany was entitled to immunity in an expropriation case.
For those looking to build a print library on transnational litigation – or for those interested in the history of foreign sovereign immunity – I highly recommend The American Law of Sovereign Immunity.