Divided Fifth Circuit Panel Affirms Antisuit Injunction in Tragic Case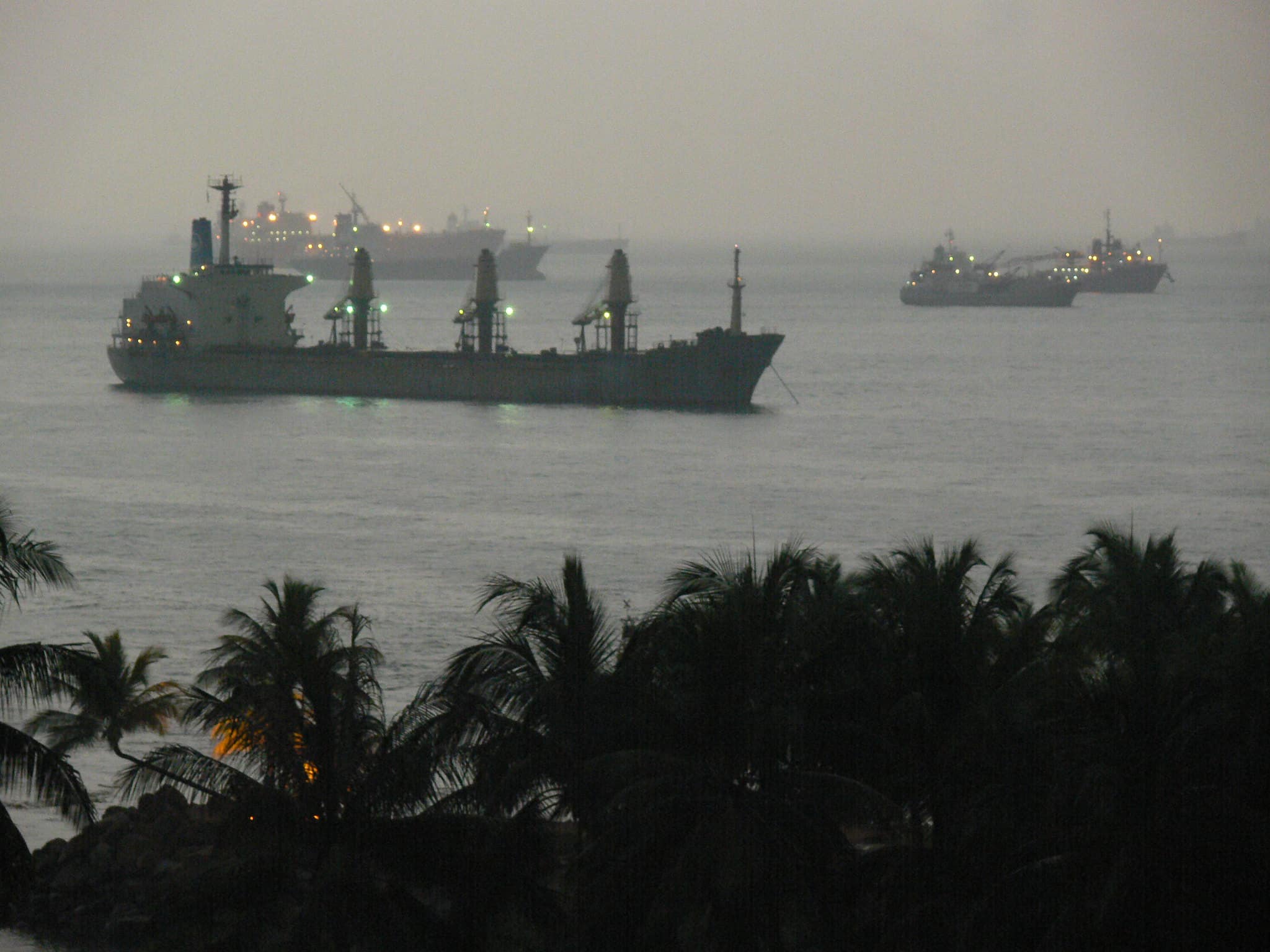 "Cargo Ships, off Sentosa Island – Singapore" by Cernavoda
is licensed under CC BY-SA 2.0
Normally, the fact that the Fifth Circuit affirmed an antisuit injunction would not be noteworthy. The Fifth Circuit is among the circuits that has adopted a liberal approach to antisuit injunctions, and all circuits review a district court's decision to grant or deny such an injunction for abuse of discretion. But the decision in Ganpat v. Eastern Pacific Shipping PTE, Ltd. is remarkable because of the starkly different views that the majority and dissent took of both the facts and the law.
In the majority's view, the U.S. defendant filed a parallel action in India to bully the plaintiff into settlement and the district court appropriately issued an injunction to stop this. In the dissent's view, the U.S. plaintiff was a blatant forum shopper who had no business being in U.S. court in the first place. The tragedy is that multiple rounds of litigation on two continents have gotten the parties no closer to a just resolution of the claims.
Facts and Alternative Facts
The U.S. plaintiff Kholkar Vishveshwar Ganpat, a citizen of India, was a crew member on a ship managed by Singapore-based Eastern Pacific Shipping. When the ship stopped at Savannah, Georgia, it allegedly failed to stock up on anti-malarial medicine. At the ship's next stop in Gabon, Ganpat contracted malaria and subsequently had to have his toes amputated because of the disease. He sued Eastern Pacific under the Jones Act in the Eastern District of Louisiana. Eastern Pacific waived objections to personal jurisdiction and venue but refused to accept service, resulting in multiple attempts to serve process and several rounds of litigation.
More than a year after Ganpat filed suit in the United States, Eastern Pacific sued him in Goa, India, seeking a declaratory judgment of nonliability and an injunction enjoining Ganpat from continuing his U.S. suit. The Indian court granted Eastern Pacific's anti-suit injunction and, when Ganpat did not drop the U.S. suit, had him arrested and jailed for contempt.
Writing for the majority of the Fifth Circuit panel, Judge Ho described the Indian court proceeding this way:
As Ganpat's uncontradicted testimony shows, the post-arrest hearing was procedurally stacked against him. Eastern Pacific had multiple lawyers. He had none. What's worse, the judge instructed one of the Eastern Pacific attorneys to advise Ganpat. In response, the Eastern Pacific lawyer took Ganpat aside and pressured him to settle. The lawyer then lied to the judge, absurdly claiming that Ganpat opposed his own release on bail. Ganpat was then placed in a prison for violent criminals, where he was strip searched and held in a cramped cell.
Back in Louisiana, Ganpat sought and was granted an anti-antisuit injunction to prohibit Eastern Pacific from continuing its action against him in India.
In dissent, Judge Edith Jones saw the facts differently. She viewed the plaintiff as a foreign national with "tenuous domestic connections" seeking "the potential windfall of a Jones Act recovery."
Falling ill at sea after docking in Africa, he was treated in Brazil, some toes were removed, and he went back home to Goa, India. Eastern Pacific Shipping India (EPS India), an Indian entity that oversaw the execution of Ganpat's seafarer employment agreement (SEA), coordinated and furnished Ganpat's medical care in Brazil and his continued care in India.
Eastern Pacific "sued Ganpat in Goa fifteen months after the U.S. suit was filed and was going nowhere. These entities sought a declaration enforcing his employment contract, which is based on Liberian and Indian law." Ganpat was jailed for contempt, but "[t]he next day, he obtained counsel and bonded out. He has been represented by counsel since and has not again been threatened with jail."
The Liberal and Conservative Approaches to Antisuit Injunctions
U.S. courts consider an antisuit injunction to be an "extraordinary" remedy that should be used "sparingly." It is generally a threshold requirement that the U.S. and foreign proceedings are parallel, meaning that "the parties are the same and resolution of the case before the enjoining court is dispositive of the action to be enjoined." But a U.S. court may enjoin parties from bringing a non-parallel foreign action that is "interdictory"—that is, the purpose of which is to interfere with a U.S. proceeding. The clearest example is an anti-antisuit injunction that prohibits a party from seeking or continuing an antisuit injunction of its own.
There is an acknowledged split among the circuits on the standard for granting an antisuit injunction. The Fifth, Seventh, and Ninth Circuits have adopted a liberal approach, under which duplicative proceedings may be enough to justify an antisuit injunction, at least if the foreign proceeding may be characterized as "vexatious." By contrast, the First, Second, Third, Sixth, Eighth, and D.C. Circuits have adopted a conservative approach, under which duplicative proceedings are not enough, and the party seeking an anti-suit injunction must generally show that the foreign proceeding would threaten the jurisdiction of the U.S. court or frustrate an important U.S. public policy like the enforcement of arbitration clauses.
On appeal, all the circuits review a district court's decision to grant or deny an antisuit injunction for abuse of discretion.
The Majority's Analysis
The majority of the Fifth Circuit panel agreed with the Eastern District of Louisiana that the Indian suit was vexatious based on three factors. First, the Indian litigation would result in "inequitable hardship" to Ganpat. "As the district court noted, Ganpat 'has already been jailed once for violating the ex parte antisuit injunction, and … faces a real possibility of being sent back to jail and having his property seized, as Eastern Pacific … seeks to have the Indian court enforce sixteen counts of contempt against [Ganpat].'"
Second, the Indian litigation would "frustrate and delay" the resolution of the U.S. suit. "The Indian court has sought to prevent Ganpat from litigating in the United States," the majority noted, "even though the American suit was filed first."
Third, the Indian litigation was "duplicative." "Eastern Pacific seeks to establish in Indian court by declaratory judgment the very same legal theory it raises as an affirmative defense in U.S. court—namely, that an employment agreement limits its liability to Ganpat."
Although the dissent emphasized Ganpat's status as an alien and the limited connection of the claims to the United States, the majority was unpersuaded that those factors were relevant to issuing an antisuit injunction. "If we were undertaking an analysis of personal jurisdiction or venue, contacts with the United States would surely be an appropriate consideration," the majority observed. "But Eastern Pacific waived its objections to both personal jurisdiction and venue. Only the merits of the anti-suit injunction are at issue in this appeal."
Judge Jones's Dissent
As noted above, Judge Jones viewed the facts differently than the majority, which undoubtedly influenced her analysis of the legal issues. "First," she noted, "all parties are foreign to the United States. The only connection this case has to the United States, besides Ganpat's lawyer, is Ganpat's allegation that EPS, a Singaporean ship manager, failed to supply the M/V Stargate, a Liberian-flagged vessel, with enough anti-malaria medication while briefly in port at Savannah, Georgia."
Judge Jones questioned whether the two proceedings were in fact duplicative, since "Ganpat has no recourse to the Jones Act's remedies in Indian courts." Ganpat would not suffer inequitable hardship from litigating in India, she reasoned, because he was living near Goa. "And any future threat of Ganpat's being jailed is wholly speculative, as he has obtained counsel in India." Nor would the Indian litigation frustrate and delay resolution of the U.S. suit. The district court could have required the Eastern Pacific to drop the antisuit injunction, she suggested, rather than abandon the Indian action completely. "And it was Ganpat," Judge Jones added, not Eastern Pacific, "who delayed his American case for over two years with inept dithering about proper service of process."
Alternative Facts Make Bad Law
On the law, this should have been an easy case. When a foreign court seeks to enjoin the parties from pursuing their claims in the United States, even those circuits that have adopted a conservative approach agree that an anti-antisuit injunction is appropriate to protect the U.S. court's jurisdiction.
In the classic Laker Airways case, for example, the D.C. Circuit noted that "parallel proceedings on the same in personam claim should ordinarily be allowed to proceed simultaneously." Nevertheless, the court continued, "[c]ourts have a duty to protect their legitimately conferred jurisdiction to the extent necessary to provide full justice to litigants." "Thus, when the action of a litigant in another forum threatens to paralyze the jurisdiction of the court, the court may consider the effectiveness and propriety of issuing an injunction against the litigant's participation in the foreign proceedings." And when the "sole purpose" of the foreign proceeding "is to terminate the American action," the court concluded, an antisuit injunction is appropriate.
In a court like the Fifth Circuit that has adopted a liberal approach, granting an antisuit injunction should have been an easy call. And given the standard of review on appeal—abuse of discretion—overturning the district court's decision should have been almost unthinkable.
But this did not dissuade Judge Jones, whose dissent oozes contempt for the plaintiff and his lawyer, belittling his injury ("some toes were lost") and blaming his lawyer for lack of progress in the U.S. suit ("inept dithering") when the defendant could have speeded things up simply by waiving service.
Judge Jones may be right that Ganpat's claims do not belong in U.S. court. Eastern Pacific might have successfully moved for dismissal for lack of personal jurisdiction or on grounds of forum non conveniens. But because Eastern Pacific waived those objections, Ganpat's claims now do in fact belong in U.S. court, and it was appropriate for the district court to protect its jurisdiction under those circumstances by issuing an anti-antisuit injunction. Judge Jones's opinion is a cautionary example of what can happen when judges decide that a case should be dismissed just because of its "foreignness."
Conclusion
In the end, it is hard to see this case as anything but a tragedy. One of Eastern Pacific's crew members became severely ill and lost his toes. Because the case has not gone to trial, it is not clear whether Eastern Pacific is at fault. What is clear is that Eastern Pacific has spent a small fortune on lawyers both in India and in the United States resisting Ganpat's claims, some of which could have been devoted to Ganpat's compensation and care if an early settlement had been reached.
Eastern Pacific has a Code of Business Conduct. "We are committed to doing what is right and acting in accordance with the highest ethical standards," it states. "We conduct our business in a way that respects human rights and the dignity of all people." I suspect Mr. Ganpat would beg to differ.