SDNY Rejects Immunity for Former Diplomat in Trafficking Case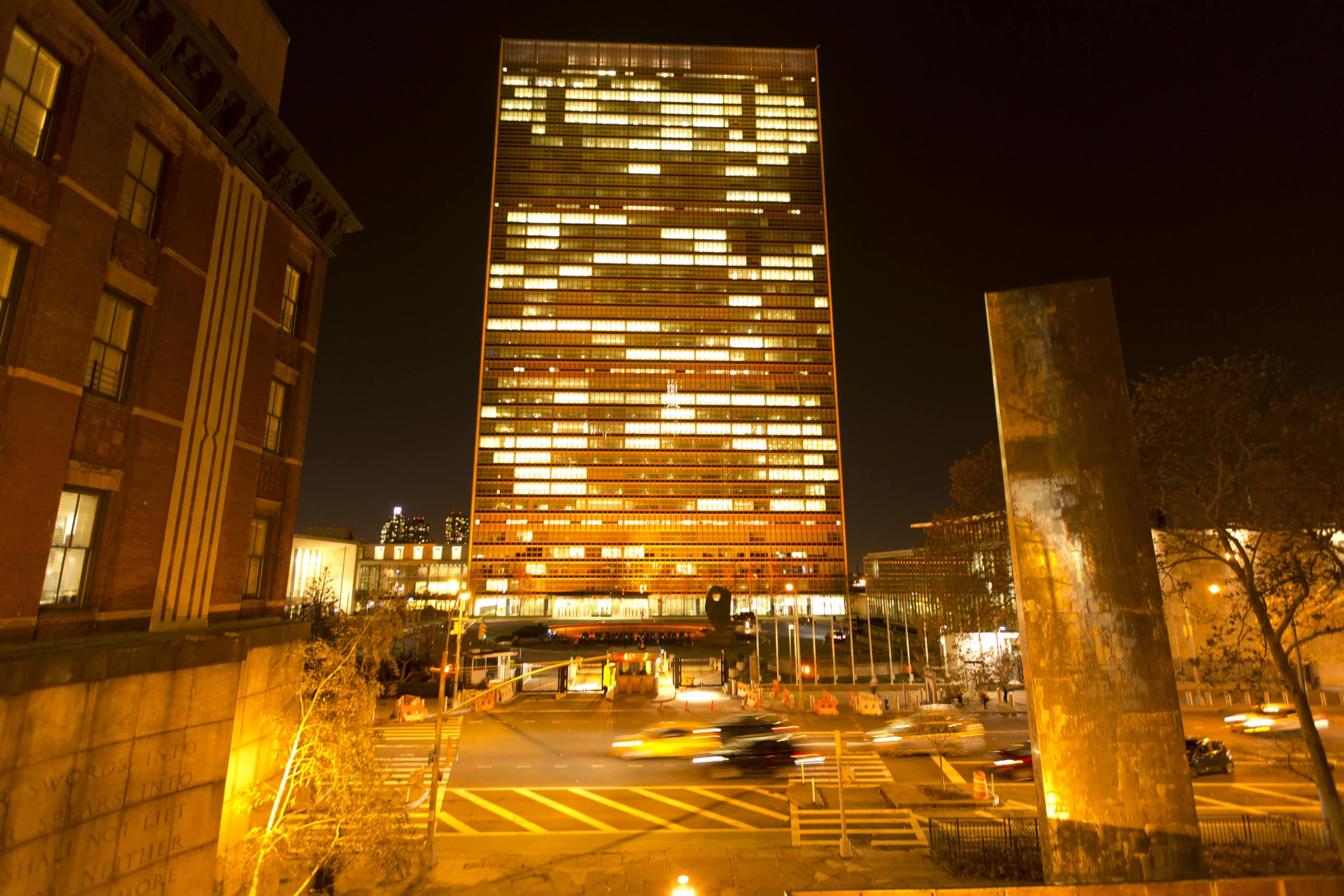 "UN Women and UNiTE campaign light UN Headquarters"
To ensure that diplomats can perform their functions without harassment, international law grants them broad immunity from the criminal and civil jurisdiction of the state to which they are accredited. Unfortunately, some diplomats seem to treat such immunity as a license to abuse their domestic servants. Earlier this year, Ingrid (Wuerth) Brunk reported on a decision by the U.K. Supreme Court, Wong v. Basfar (2022), holding that a domestic worker could bring claims for human trafficking against a current member of Saudi Arabia's diplomatic mission to the United Kingdom who held her in conditions of modern slavery.
Although the United States seems unlikely to follow this decision in the short term, it may be possible to sue diplomats in U.S. courts after they leave office. In Ravelombonjy v. Zinsou-Fatimabay, the District Court for the Southern District of New York (Judge Edgardo Ramos) held that Benin's former Ambassador to the United Nations and his wife were not immune from claims by their former driver for forced labor and trafficking, as well as violations of federal and New York employment laws. In this post, I consider the contours of diplomatic immunity for current and former diplomats, particularly as it relates to claims like these.
Background
The plaintiff Manasay Hardy Ravelombonjy alleges that he was recruited from his home in Madagascar by his aunt, wife of Benin's Ambassador to the United Nations, to work as the Ambassador's driver in New York. After he arrived, he was allegedly subjected to brutal working conditions, inhumane hours, and threats concerning his job security and immigration status. He was fired after filing a minimum wage and overtime complaint with the New York State Department of Labor.
Benin's Ambassador Jean Francis Zinsou left his position with the U.N. mission in 2016. The plaintiff sued him and his wife (the plaintiff's aunt) Colette Zinsou-Fatimabay in 2019, alleging violations of the Trafficking Victims Protection Reauthorization Act (TVPRA), the federal Fair Labor Standards Act, and New York State Labor Law, as well as tort claims under New York common law. Ambassador Zinsou died in 2020, and the suit continued against his estate and Zinsou-Fatimabay.
As discussed below, former diplomats are entitled to residual immunity only for acts performed in the exercise of their functions as members of a diplomatic mission. With respect to the plaintiff's employment claims, the district court held that Ambassador Zinsou's employment of plaintiff was not performed in the exercise of his functions as the member of Benin's U.N. mission and that he was not, therefore, immune from suit. The court considered several factors. First, the plaintiff entered the United States on a G-5 visa for personal employees rather than a G-1 visa for employees of the mission. Second, the employment contract was signed by Ambassador Zinsou and identified him as the employer, although the plaintiff was actually paid by the mission. Third, the plaintiff lived with the defendants. And fourth, the plaintiff was responsible not only for driving the Ambassador on official business but also for driving his wife, their children, and their family friends wherever they wanted to go. The court observed that employment is not considered an official act when it "is not solely for the purpose of supporting the diplomatic agent's exercise of his diplomatic functions."
With respect to the plaintiff's forced labor and human trafficking claims, the district court noted that none of the alleged acts were performed in the exercise of the Ambassador's diplomatic functions or on behalf of the mission. The court also noted that Zinsou-Fatimabay, the Ambassador's wife, enjoyed no residual immunity with respect to any of the claims. Rejecting the defendants' motion to dismiss for failure to state a claim, the court concluded that the plaintiff adequately alleged facts amounting to forced labor and human trafficking and facts showing that Zinsou-Fatimabay was also his employer for purposes of the employment law claims.
Finally, the district court rejected the defendants' argument that the case must be dismissed for failure to join Benin's mission to the United Nations (which is immune from suit) as an indispensable party. The court concluded that the mission was a necessary party because it might also be considered the plaintiff's employer. But the court concluded that the mission was not an indispensable party because its absence would not prejudice the defendants, because it was unlikely that the plaintiff would bring a separate action against the mission, and because it was not clear that the plaintiff had an alternative remedy.
Diplomatic Immunity
Diplomatic immunity is a form of foreign official immunity and is governed by the Vienna Convention on Diplomatic Relations (VCDR). The U.S. Diplomatic Relations Act provides that "[a]ny action or proceeding brought against an individual who is entitled to immunity [under the VCDR] … shall be dismissed."
Current Diplomats
Under Article 31 of the VCDR, current diplomats are absolutely immune from the criminal jurisdiction of the state to which they are accredited. Diplomats are also generally immune from civil and administrative proceedings, with limited exceptions for actions related to real property, succession, and commercial activities in the receiving state. The same immunities extend under Article 37 to members of a diplomat's household. The State Department's certification of an individual's diplomatic status is binding on courts in the United States. When diplomatic immunity prevents legal recourse against an individual, the receiving state can ask the sending state to waive such immunity under Article 32. The receiving state can also declare a diplomat "persona non grata" under Article 9, requiring her to leave the receiving state or lose her immunity if she does not.
Domestic servants have tried unsuccessfully to bring civil claims against current diplomats under Article 31(1)(c)'s exception for "action[s] relating to any professional or commercial activity exercised by the diplomatic agent in the receiving state outside his official functions." In Tabion v. Mufti, a domestic servant sued a member of the Jordanian Embassy in Washington, D.C. for employment law violations, complaining of low pay and long hours. The U.S. State Department expressed its view that the VCDR's commercial activity exception was limited to trade or business activity and did not extend to contractual relationships for goods and services incidental to daily life. The Fourth Circuit agreed: "Day-to-day living services such as dry cleaning or domestic help were not meant to be treated as outside a diplomat's official functions. Because these services are incidental to daily life, diplomats are to be immune from disputes arising out of them." U.S. courts have reached the same conclusion even when the domestic servant's claims alleged human trafficking.
As noted above, the U.K. Supreme Court recently held that the VCDR did not immunize a diplomat against allegations that amounted to modern slavery. "We cannot accept," the Court wrote in Basfar v. Wong, "that exploiting a domestic worker by compelling her to work in circumstances of modern slavery is comparable to an ordinary employment relationship of a kind that is incidental to the daily life of a diplomat (and his family) in the receiving state." One can certainly agree with this statement as far as it goes. The problem, as Ingrid and Ted Folkman have pointed out, is that exploitative conditions do not appear to make employment any more "commercial," and it is only actions relating to "professional or commercial" activities that the VCDR excepts from diplomatic immunity.
Former Diplomats
Diplomatic immunity is a status-based immunity, which means that it ends when diplomats leave their posts. However, the VCDR recognizes residual conduct-based immunity for acts taken in an official capacity. Article 39 provides that, "with respect to acts performed by such a person in the exercise of his functions as a member of the mission, immunity shall continue to subsist." Members of a diplomat's household enjoy no residual immunity because they do not exercise functions as members of a mission.
In Swarna v. Al-Awadi, the domestic servant of a Kuwaiti diplomat posted to the United States brought claims of trafficking, forced labor, and sexual abuse against the diplomat and his wife. She alleged that she was forced to work seventeen hours a day, seven days a week, and was repeatedly raped by the diplomat. On appeal, the United States filed an amicus brief expressing the State Department's view that residual diplomatic immunity is limited to official acts and that employing a domestic servant is not an exercise of diplomatic functions. The Second Circuit agreed:
The alleged facts clearly show that Swarna was employed to meet Al-Awadi's and his family's private needs and not any mission-related functions. Swarna worked an average of seventeen hours a day, seven days a week, cooking, cleaning, caring for Al-Awadi's children, and tending to the family's personal needs. Al-Awadi also allegedly raped Swarna. If Swarna's work for the family may not be considered part of any mission-related functions, surely enduring rape would not be part of those functions either. Although Swarna also cooked and served guests at official functions from time to time and taught other servants how to cook Kuwaiti dishes, these duties were incidental to her regular employment as Al-Awadi's personal servant.
The different treatment of claims by domestic servants against current and former diplomats reflects the different starting points for diplomatic immunity and residual diplomatic immunity. Article 31 of the VCDR grants broad immunity to current diplomats, subject only to limited exceptions including "commercial activity." Article 39, by contrast, recognizes residual immunity only for acts performed "in the exercise of [a person's] functions as a member of the mission." As the U.S. amicus brief in Swarna pointed out: "There is a wide range of activities that are both not commercial, for purposes of the narrow exception to the broad personal immunity of current diplomats, and simultaneously not official acts entitled to residual immunity under Article 39(2) of the VCDR." Employing domestic servants typically falls within this range.
Conclusion
Claims by domestic servants against current diplomats, even claims alleging trafficking, forced labor, and sexual abuse, are unlikely to succeed in U.S. courts because the employment of such servants and their abuse is not considered a commercial activity. This means that a domestic servant may have to wait until a diplomat's posting ends to bring suit. It sad that domestic servants subject to abuse must wait to obtain redress. It is even sadder that the treatment alleged in the suits discussed above occurs at all.