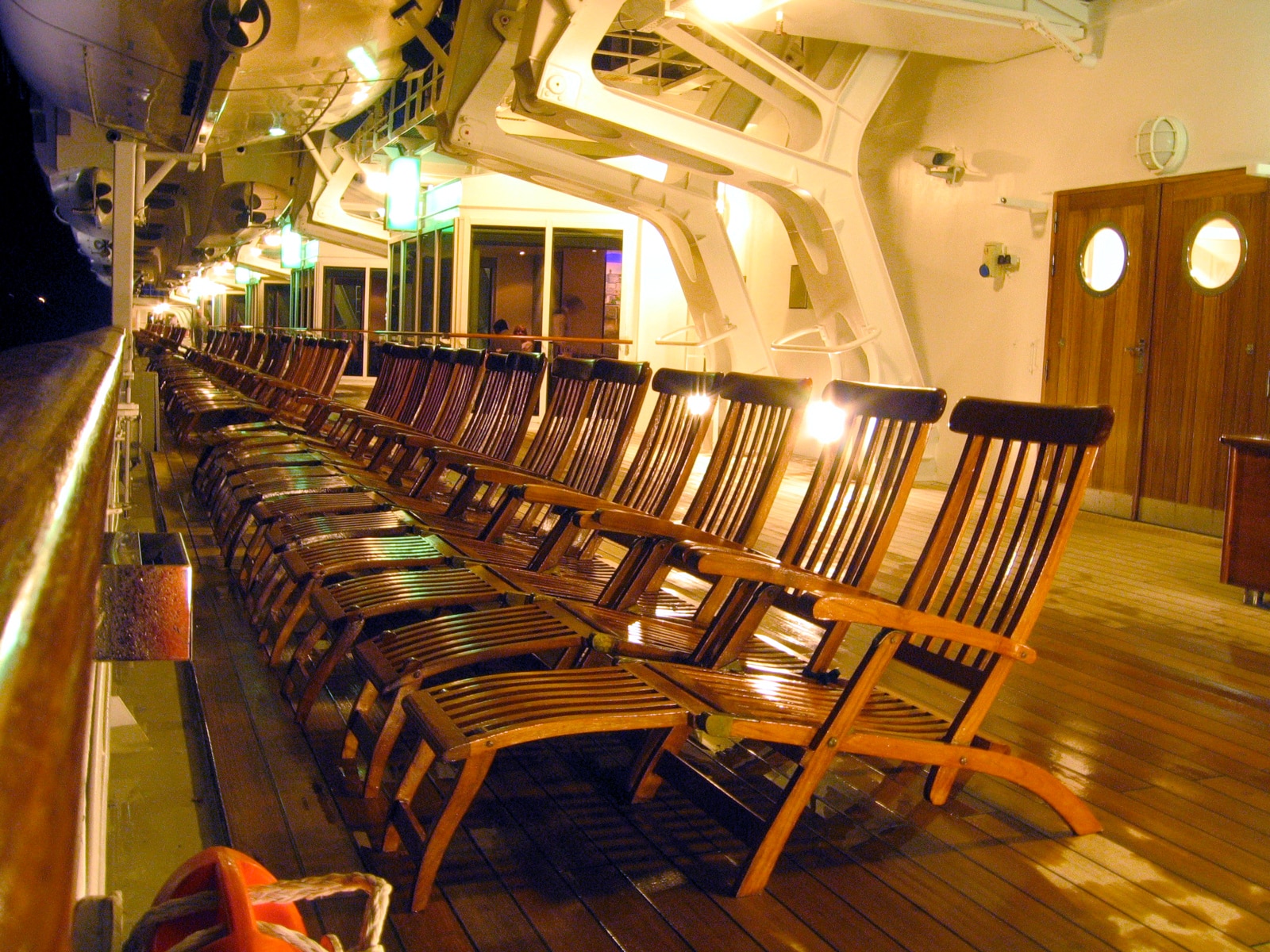 "deck chairs on promenade deck" by nickherber
is licensed under CC BY-NC-ND 2.0
It is important to have high standards… especially when it comes to forum selection clauses, personal jurisdiction, and forum non conveniens. Since its inception, this blog has discussed a number of judicial decisions where these high standards were not fully met. One can find posts offering criticism here and here and here and here and here. Every now and then, however, a judge gets it exactly right. When this happens, it is a time for celebration.
This is a post about one such decision — Shores Global LLC v. A/S. The decision was not rendered by a federal court of appeal or a federal district court judge. Technically, it was not a decision at all. It was a report and recommendation submitted by Magistrate Judge Melissa Damian in the U.S. District Court for the Southern District of Florida. This report and recommendation was extremely well-reasoned and deftly navigated a number of complicated issues.
Shores Global, LLC v. A/S
Shores Global LLC (SG) is a Florida company that sells furniture to cruise ships, resorts, hotels, and restaurants. Andreas Krenzen (Krenzen) is a Danish citizen. In 2016, Krenzen began working in SG's satellite office in Denmark. In 2019, SG offered Krenzen a position in its Miami headquarters. When Krenzen accepted the position, he was required to sign an employment agreement, a non-competition agreement, and a non-solicitation agreement. All of these contracts contained Florida choice-of-law clauses and Florida forum selection clauses.
After working in Miami for approximately eight months, Krenzen resigned his position, returned to Denmark, and started a new company, Njord's Ark A/S (Njord), that competed directly with SG. SG filed a lawsuit against Krenzen and Njord in federal court in Florida alleging breach of contract and misappropriation of trade secrets. Krenzen and Njord moved to dismiss for lack of personal jurisdiction and forum non conveniens.
Personal Jurisdiction – Krenzen
Express consent has long been recognized as a valid basis for personal jurisdiction in the United States. A number of states have, however, enacted statutes that limit the exercise of personal jurisdiction on this basis. Florida's long-arm statute, for example, permits a Florida court to exercise personal jurisdiction over a non-resident on the basis of express consent only if he or she entered into a contract that complies with the requirements set out in this statute. The statute authorizes a Florida court to assert jurisdiction if the contract:
(1) includes a choice of law provision designating Florida law as the governing law, (2) includes a provision whereby the non-resident agrees to submit to the jurisdiction of the courts of Florida, (3) involves consideration of not less than $250,000, (4) does not violate the United States Constitution, and (5) either bears a substantial and reasonable relation to Florida or was entered into by at least one Florida resident or citizen.
Because the federal court in Florida was exercising personal jurisdiction over Krenzen pursuant to Federal Rule of Civil Procedure 4(k)(1)(A), the magistrate judge had to determine whether the contract between Krenzen and SG satisfied each of the elements listed above.
She concluded that these elements were satisfied. All of the relevant agreements contained Florida choice-of-law clauses and Florida forum selection clauses. There was some discussion as to whether there was consideration of at least $250,000 because Krenzen's salary was only $80,000. The court was, however, persuaded by SG's representations that the combined value of Krenzen's salary, commissions, relocation expenses, travel expenses and other incidental expenses totaled approximately $200,000 over the eight months he worked for the company. The court concluded that Krenzen's compensation package could reasonably be expected at the time of signing to have exceeded $250,000. The court also reasoned that asserting personal jurisdiction would not violate the U.S. Constitution. The final element was satisfied because the counterparty to the contract was a Florida company.
There was, however, one wrinkle. The statute authorizing jurisdiction by express consent is inapplicable by its terms to contracts "for labor or employment." Krenzen argued that the forum selection clause was part of his employment contract, so the statute was not satisfied. The court disagreed, reasoning that while the stand-alone non-competition agreement that contained a Florida forum selection clause was related to Krenzen's employment at SG, it was not itself an employment agreement. (The Second Circuit has invoked a similar logic in a different context.) Even if the employment contract had never been signed, in other words, Krenzen was subject to personal jurisdiction in Florida by virtue of the Florida forum selection clause in the non-competition agreement.
Personal Jurisdiction – Njord
Njord was not a party to any of the contracts between Krenzen and SG. Indeed, it did not even come into existence until after Krenzen returned to Denmark. SG wisely declined to argue that Njord had expressly consented to jurisdiction in Florida. Had it advanced this argument, it would have failed. The court stated that it is inconsistent with due process to bind a non-signatory defendant to a forum selection clause for purposes of asserting personal jurisdiction merely because that defendant is closely related to the signatory. A recent decision by the Fifth Circuit notwithstanding, this statement is clearly correct.
Instead, SG argued that Njord was subject to personal jurisdiction because it had ratified acts taken by Krenzen in Florida. The court held that, even assuming that Njord had ratified Krezen's actions after it came into existence, exercising personal jurisdiction over Njord would not comport with traditional notions of fair play and substantial justice. Njord was a Danish company. It did not have an office in Florida. It had no employees in Florida. It had no affiliates in Florida. And it had conducted no business in Florida separate and apart from the acts taken by Krenzen before Njord was created. Under these circumstances, the court found that "that the exercise of personal jurisdiction over Njord's would offend traditional notions of fair play and substantial justice contrary to the Due Process Clause of the Fourteenth Amendment." Accordingly, the court recommended that Njord's motion to dismiss for lack of personal jurisdiction be granted.
In reaching this conclusion, the court continued a long judicial tradition of concluding that jurisdiction is inconsistent with traditional notions of fair play and substantial justice only when the defendant is a foreign person. In a 2017 paper, Linda Silberman and Nathan Yaffe argued that U.S. courts "in practice only dismiss on reasonableness grounds where the defendant is foreign, whereas they effectively never dismiss domestic defendants on grounds of reasonableness." The decision in Shores Global, LLC v. A/S constitutes another data point in support of this claim.
Forum Non Conveniens
The court also considered whether the case against Krenzen should be dismissed on the basis of forum non conveniens. It held that it should not. In reaching this conclusion, the court specifically pointed to the existence of the Florida forum selection clause. The U.S. Supreme Court held in Atlantic Marine that a defendant "waives the right to challenge the preselected forum as inconvenient or less convenient for themselves or their witnesses" by agreeing to a contractually valid clause. The text of the particular clause at issue in this case further provided that "each party irrevocably waives any objection that it may have now or later to the venue of any action arising out of this Agreement in any of these courts, including an inconvenient forum petition." (emphasis added) In light of the foregoing, it should come as little surprise that the magistrate judge recommended that Krenzen's motion to dismiss on the basis of forum non conveniens be denied. To date, virtually every U.S. court to have considered the question has declined to dismiss on the basis of forum non conveniens when the contract contains an exclusive forum selection clause naming the U.S. forum where the suit was brought.
Conclusion
It is a rare and precious thing when a court successfully traverses the procedural minefield chronicled above. The decision in Shores Global, LLC v. A/S is a model for other courts to follow.