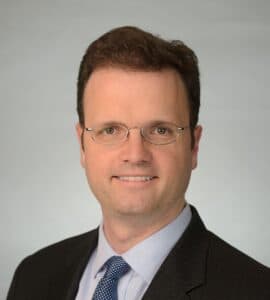 Robert Kry's practice focuses on trial and appellate litigation. He represents clients before the United States Supreme Court, the federal courts of appeals, and other federal and state courts. His practice covers a broad array of subject matters, including sovereign immunity, arbitration, enforcement of arbitral awards, constitutional law, business litigation, securities fraud, and intellectual property. Mr. Kry is a founding partner of MoloLamken, which he joined after several years in the Supreme Court and appeals practice of another prominent firm. Before that, Mr. Kry served as a law clerk to Justice Antonin Scalia of the United States Supreme Court and to Judge Alex Kozinski of the United States Court of Appeals for the Ninth Circuit. Legal 500 describes Mr. Kry as a "great writer" and an "incredibly quick and deep thinker" with an "impressive command of the law." Benchmark Litigation calls him a Litigation Star and notes his "steady ascent in profile." Chambers says he "has a mind like a supercomputer" and "knows everything there is to know about the recognition of foreign judgments and awards." Lawdragon named him one of the 500 Leading Lawyers in America. He has been featured in prestigious publications including the New York Times and the National Law Journal.
Foreign governments have many advantages in litigation.  Chief among them is sovereign immunity.  Under the Foreign Sovereign Immunities Act, foreign states and their agencies and instrumentalities are immune from suit in United States courts unless the case falls within one of the statute's specific exceptions to immunity.  That substantive immunity also confers important procedural advantages. …
Continue Reading
Later this month, the U.S. Supreme Court will consider a petition for a writ of certiorari in Jam v. International Finance Corp., a case that raises important questions about United States jurisdiction over cross-border disputes.  The case most immediately involves the scope of sovereign immunity where a foreign state or international organization takes actions in the United States that contribute to tortious conduct overseas.  But the case also has broader implications for secondary liability generally.
Continue Reading